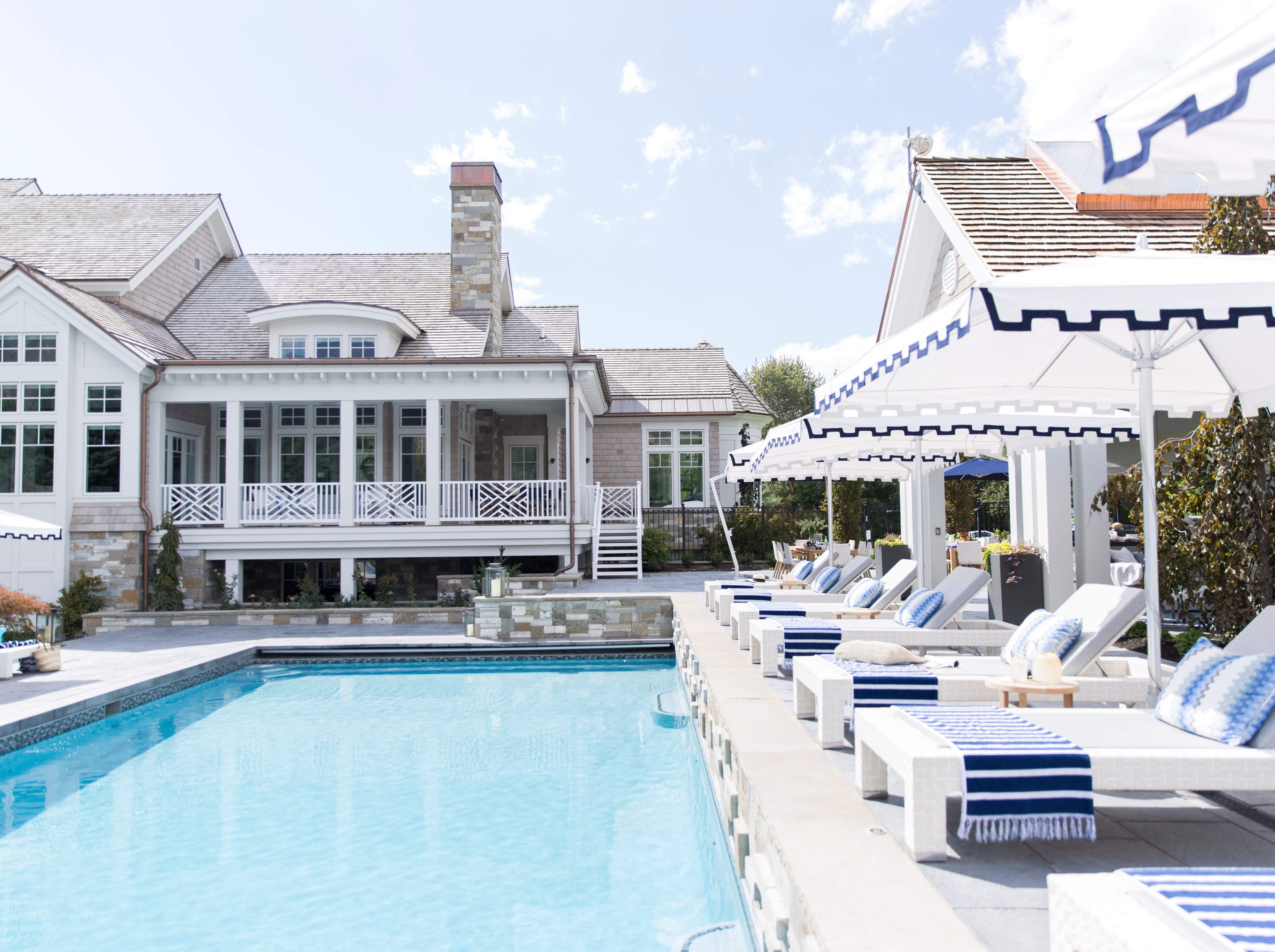 Happy 4th of July! Summer is in full swing, and today is one of our favorite holidays of the year! Wherever you are in the country, July means that it is time to swim, and what better way to celebrate this day than with your closest friends and family at the pool. We absolutely love to go to the pool, and in this post, we are going to talk about everything you need to know to have the best pool for a pool party.
Types of Pools
There are many different types of pools at many different price points. The most attainable and low cost type is going to be a vinyl lined pool. They are a great option for those looking for the quickest build times and a cost effective pool. An acrylic drop-in pool would be the next price point, and it is reminiscent of the feeling of a bathtub. Then your higher price point pools will be either plastered walls or tiled. We have an example of a tile walled pool below from one of our gorgeous ALID projects.
Each type of pool has its pros and cons, especially depending on where your home is located and the weather there. For example, places like Southern California, Arizona, and Texas don't need to be mindful of extreme cold weather unlike places that experience snow every winter. For places that do have temperatures drop below freezing, you will want to steer clear of tiled pools because the tiles could pop off in such cold climate. 
Salt Water vs Chlorine
Salt water pools have been around for longer than most people think. They were the hottest thing around the 70s and 80s and then people switched back to chlorine, and now they are resurfacing. Salt water pools are so desirable because of the way your skin feels coming out of the pool. Chlorine really tends to dry your skin out, whereas salt water will leave you feeling very smooth and hydrated. Chlorine is more clean and runs better through the pool filtration system, so it really just depends on how much upkeep you are willing to perform.
Poolside Accessories
This is your moment to really make your pool shine. No matter the circumstance, you can always dress up your pool and make it look so good with the choice of towels, lounges, and potted plants, etc. Turkish towels are really popular with the tassels, and they are so soft and dry very quickly. Try using either our Bolzano Dot Pot, Callista Round Pot, or Brutalist Pot with your choice of plants to add greenery around the pool.
Poolside Furniture
If you are really looking to step up your pool party game, it is a good idea to have some outdoor furniture near by. Allowing your guests to get out of the pool and have a place to hang out and feel luxurious sitting by the pool. We love our outdoor garden stools like the Charlotte, Francesca, or Daphne. Check out our entire collection of outdoor pieces here.
For more tips and tricks on pools, listen to this episode of Dear Alice. You will learn so much about how to make your pool the best it can be!