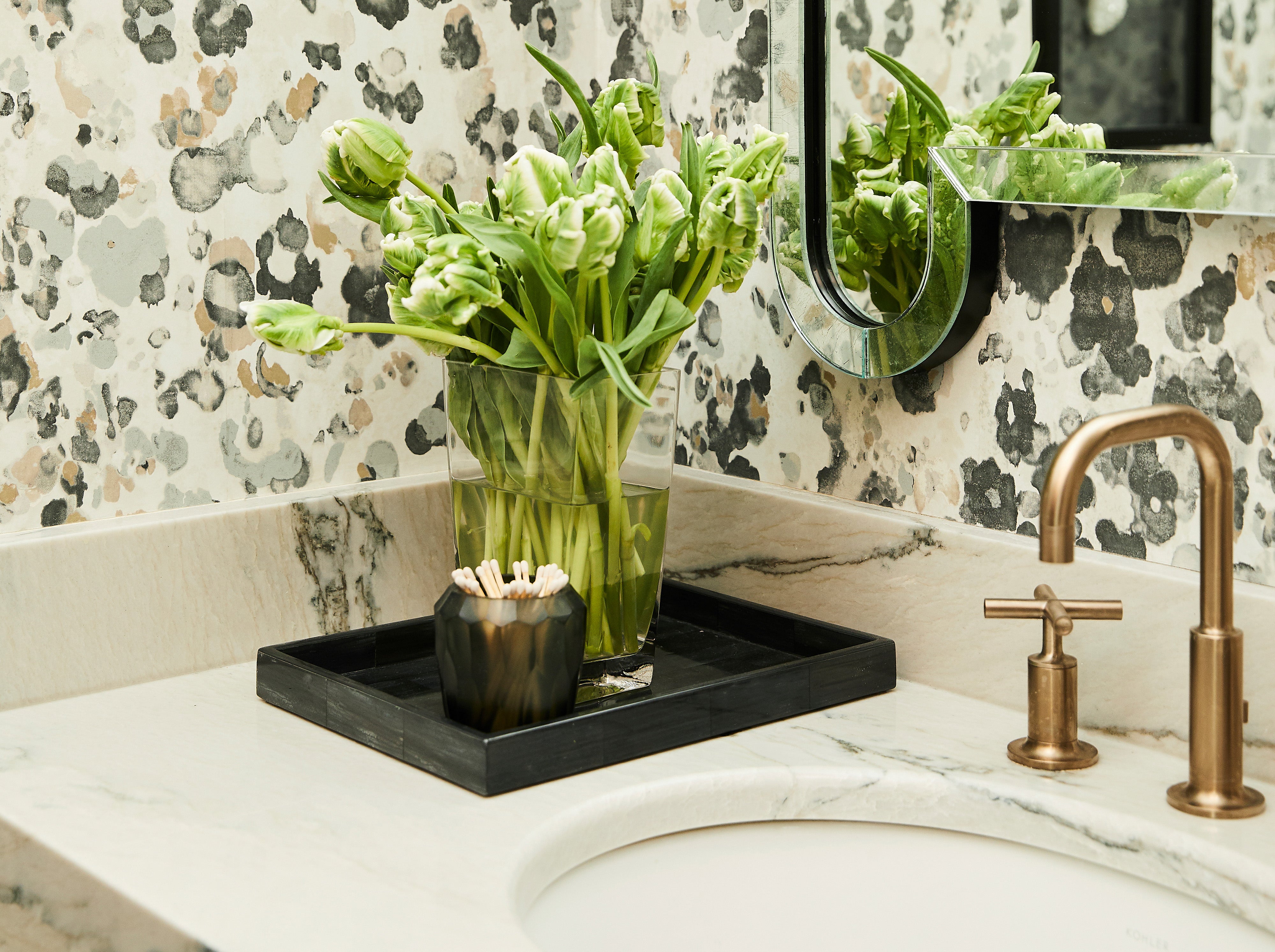 Let's talk about our favorite room in the house. The powder bath! We love designing a powder bath because it is a space where you won't spend a whole lot of time, so it can be dedicated to just looking BEAUTIFUL. No need to make it too comfortable or practical, it is just a space to show some creativity.
Everything seems bigger in a small space. This gives you the opportunity to really make a statement and whatever you do in there will have a big impact and will thank you back ten-fold. It is a great way to give a flavor of what your home is about. If you have a sense of style that maybe won't be quite as obvious in the rest of your home because you don't want to grow tired of it, let the powder bath be the place that you can really make that style known. We have so many pieces that can make a statement in there like the Gold Eros Sculpture or the Opal Shell Jar.
One thing to keep in mind when designing the powder bath is you don't need a lot of storage. A pedestal sink is perfect in there and offers more space for larger pieces like the Atticus Column or the Galerie Pedestal with a Teak Root Ball on top. Try to keep the bathroom essentials to a minimum, and maximize on the decor. Have a place for a couple extra rolls of toilet paper and a few clean hand towels, but go all out on the design aspect. 
Check out this styling session with Jessica Bennett and Suzanne Hall on powder baths.
The mirror is another place to really shine in the powder bath. Find a mirror that pushes the boundaries and makes people stop and stare for a moment. Just like everything in the powder bath, you have permission to go big and hang a drastic mirror that maybe wouldn't work in another room. Some of our favorite mirrors are the Ringo Pill Mirror and the Olympia Mirror.
It is also good practice to keep the powder bath smelling fresh. Be sure to make the means necessary to do that available at all times. We have a number of candles and diffusers that you can keep in the bath room like the Makassar Ebony Peach Voluspa Candle or the Santorini Diffuser. Light the candle when you have guests coming over, and it will make for an even more pleasant experience in your beautiful powder bath.
All of these things will help you to create the most amazing powder bath you and your guests will LOVE. Listen to this episode of Dear Alice for even more tips on the powder bath, and make sure to look out for a new episode every Thursday!