EXTERIORS - Your questions answered!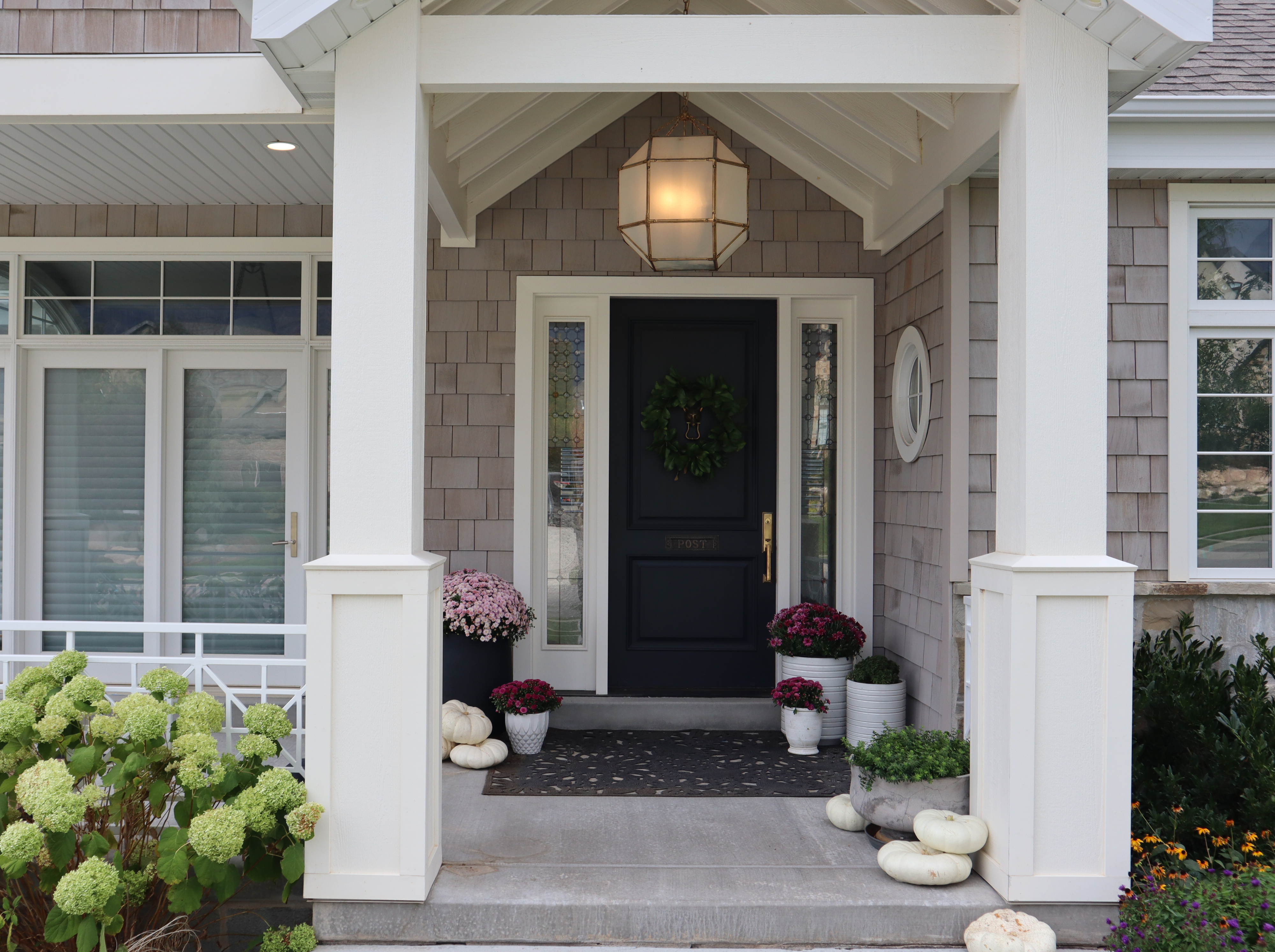 We get a lot of follower questions regarding the exterior of the home. What materials should I choose? How do I update the exterior of my home? We're going to do a deep dive and break down some of our tips, trends, and recommendations. 
In most parts of the US, home values have increased. Not as many people can afford a new build. Additionally, more and more are choosing to renovate existing homes in prime locations (it's all about location, right?). 
Unfortunately, this leaves a lot of people with dated exteriors. The trends 10-15 years ago were very tuscan and dark brown. Most of us burnt out on the brown, so now we're seeing a lot of white farmhouse exteriors with a large pitch and contrasting black windows and facia. 
We're chatting windows, exterior materials, doors, colors, and accents that will achieve a timeless home elevation.
WINDOWS
Are black framed windows a fading trend? 
Black windows are cool in certain applications. Black windows are a trend. And a timestamp. If you're a long-time follower and friend, you'll know that we don't often implement trends. The very definition of a trend is that it is in style now. The flipside of that is that it will go out of style and date your home. You can expect any hot trend to go out of style in about 7 years. 
The safest option is white casing. It will never go out-of-style and will work with any exterior elevations. 
EXTERIOR MATERIALS
There are so many white homes right now. Suz predicts that we'll end up in a "white sea of regret". People are leaning hard into the white farmhouse look, but that train has left the station. It's time to check back at the station for something fresh.
1. Stucco
Can I clad 90's stucco in shingles or batten?
We recommend demoing the stucco. Whenever you layer exterior surfaces, you leave the surface more vulnerable and room for water to make its way in. It's probably safest to demo back and put up what you want. 
If you have a chunky stucco, you can have them smooth and quiet the texture so that it appears more like plaster. 
Can I paint stucco?
You can paint over stucco, but it's tricky and it will only give you about 3-5 years. It's very textured, so the paint can disappoint and tends not to last long. Paint over stucco will also appear darker (as it absorbs more), so if that's the direction you're heading, choose 3-4 shades lighter. 
2. Stone
Can you re-paint natural stone on your exterior?
You can…but we don't love it. Stone is from the Earth, so painting over it just seems wrong. Instead, what we might recommend is re-grouting the stone so that you get the look without massive regrets down the road. 
3. Brick
What are your thoughts on lime-washing?
We've done this on a few homes. With a really orange-y brick, it can actually turn out quite lovely. It can really temper the tones of the home and still hold onto that organic feel. 
4. Cedar Shakes
Jess's home has cedar shakes and the cedar is starting to show through, so it's about time to re-stain to keep the wood tones the right accent. Cedar shakes are gorgeous, but do require a lot of maintenance to keep clean and prevent breakdown. Jess also implemented a cost-saving technique of using stucco on the west facing side of the home so that it didn't take so much abuse from the sun. 
5. Hardie Board Siding
This is a trend we saw pop up in the early 2000's. There was a big movement to add what they thought was architectural interest and they were applying siding in both horizontal and vertical directions. 
Our advice is to keep a monolithic design and keep the siding going in the same direction. It will definitely be less of a timestamp. 
Hardie Board does last longer than painting in brick and stucco - it's more like a 20 year finish. 
COLOR
Are black and white homes too overdone or trendy?
Yes - especially the optic white with the harsh contrasting black. When we do choose this direction, we go with a creamier white and a more charcoal accent. 
What about a black home?
We're into it! We've done a few charcoal and darker homes. They're still holding up 10 years later and feel so historical. Black homes are beautiful and unexpected. We also love to envision landscaping. The green against the black is such a lovely pop. 
How many colors should I aim for on an all-stucco house?
Consider the surfaces - roof, door, and home. We love combinations of 3. They keep things from feeling too busy and more elevated.
What is a good exterior that isn't Black or White?
We're always going to lean toward secondary colors because they feel more historic. Benjamin Moore has a historic paint color line that is a good place to start. Farrow and Ball has some rich, historical colors as well. Respect the neighborhood and architecture and stay faithful to that vibe. It's fun to do color on vacation homes - it just makes them so happy!
ACCENTS
1. Fencing
What fencing should I put in that will hold up over time?
Skip the embossed rock fencing. It just looks fake. 
We love black iron fencing. Those vertical lines are so beautiful and you can see the landscaping through the fence. Those rods also serve as a trellis or support for climbing plants. 
2. Decking
What should I consider when adding a deck?
Consider your home. What's in line with your existing exterior and what's happening in your interior? In 90% of the homes we do, there's a hardwood floor leading out to the deck. We typically use Trex composite decking as it holds up to the elements. 
3. Lighting
Where we see most people miss is on scale. Some fixtures are just a little night light that barely houses the lightbulb. Include larger fixtures in authentic materials. 
DOORS
1. Front Doors
What is your favorite front door color?
Focus on the main door. Paint the others in a similar color to the home so they fade and the front door pops. This really does depend on you! Colored doors add so much personality and can serve as a landmark for navigating guests to your home. 
2. Garage Doors
How do you make them beautiful?
They're so giant, so a lot of times we keep them in line with the house colors, but we also love carriage doors. They can be really beautiful and enhance the elevation. 
With any home exterior, our primary piece of advice is to  stay authentic to your neighborhood and architecture. Study the exterior of your home to see how the materials are laid. Choose materials and applications that are more authentic in keeping up the structure of your home and you'll accomplish a more timeless look.
Listen to this episode of Dear Alice for even more tips on home exteriors, and make sure to look out for a new episode every Thursday!