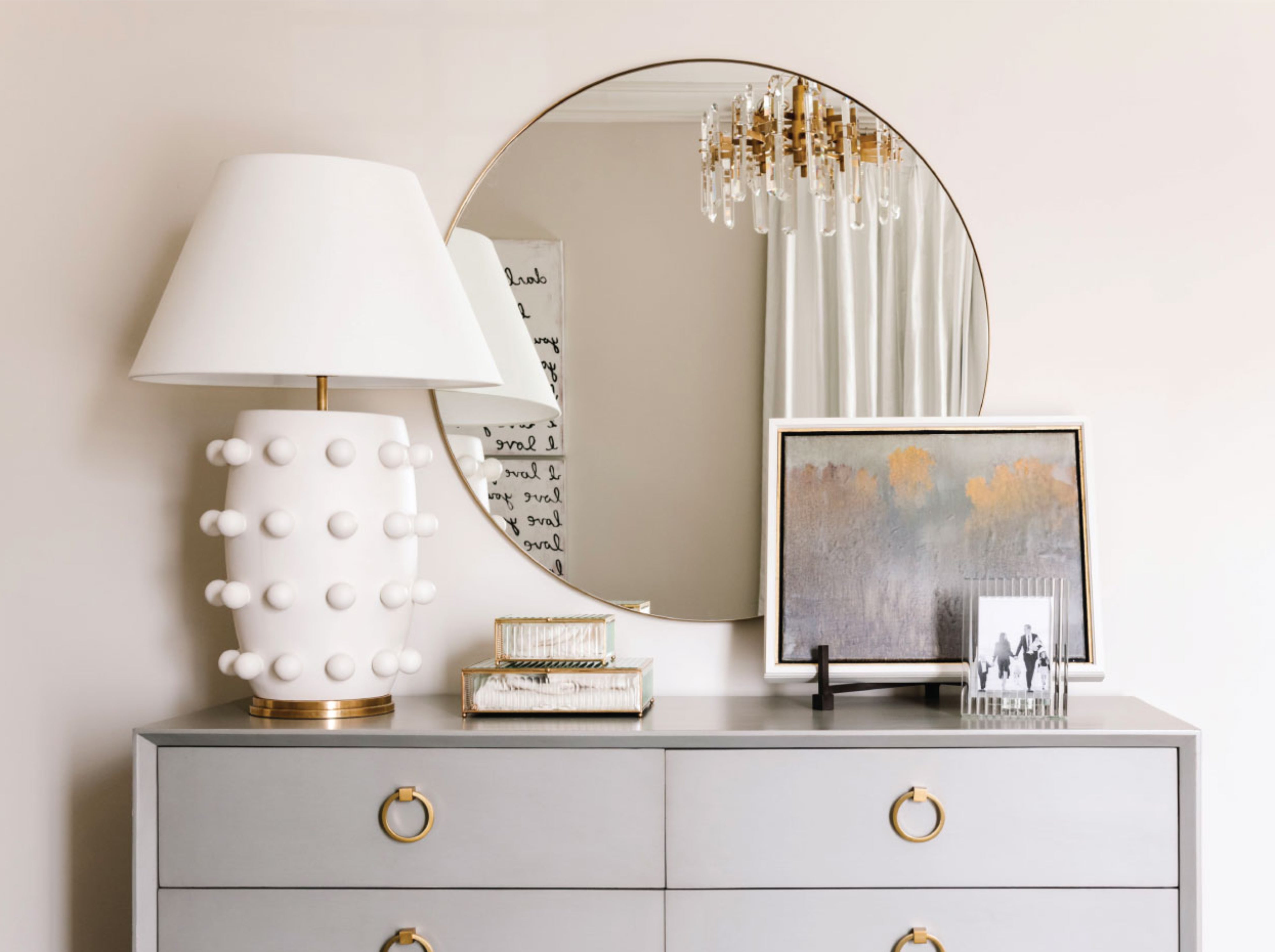 Dressers are an essential storage piece, easily providing hidden space for clothes and personal items. Most are larger furniture pieces, providing the perfect surface to create a beautiful design. Here are our favorite ways to add elegant accessories and practical pieces for tasteful dresser styling.
First, we love to begin with a tall mirror or artwork styled behind the dresser. A mirror is a perfect blend of functionality and style, effortlessly reflecting the objects and a place to check one's appearance. Our Oxford Mirror is a substantial piece with a thin brass frame, providing subtle sophistication to any room. The Theron Mirror features an elongated panel design complimented by an antiqued finish, for an elevated, cultivated look.
Second, we always add a lamp. Lamps are key for setting a moody tone and providing light, so we don't have to use overhead lighting while winding down for bed. The Beverly Lamp is an ideal addition, it lends height and the crystal base adds a glamorous, translucent look. For a more dimensional design try our Winnie Crystal Lamp.
Third, start to layer in smaller objects. Style a favorite coffee table book, like Architectural Digest, laid horizontally for a grounding effect. Incorporate the Alabaster Coasters to protect the surface in a beautiful way. We always suggest a candle and candle holder, like the Clawfoot or Crystal Candle Dish, promoting a relaxing tone and helping the room smell incredible. Finally, add in our Brass Candle Snuffer for an easy way to extinguish the candle before bed.
Finally, style in something organic, either living or faux. Choose a piece that is tall, so the height pulls back to the mirror and compliments the lamp. We love the drama and height of the Snapdragons or Fishtail Palm. Make sure to leave empty space, providing a spot for a pile of clothes when putting away or an area to fold clothes.
Following these tips will help you create liveable luxury in the bedroom. To watch Jess style the Brooklyn Dresser, check it out here. If you would like help in selecting the perfect dresser for your space, book a complimentary appointment with our designers here. For additional styling tips and tricks, read more blogs here.