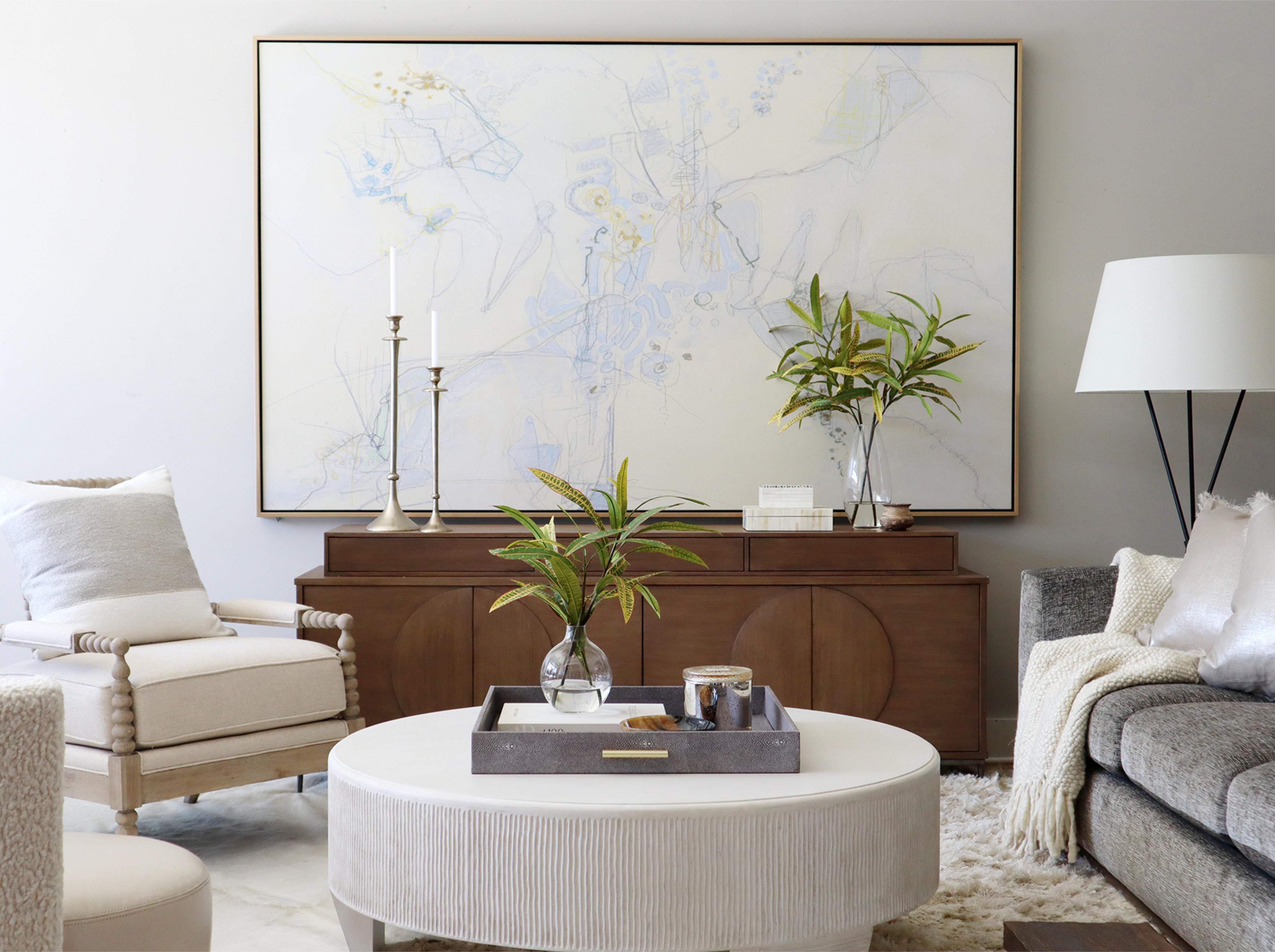 Trays are one of our favorite styling tricks. Not only do they corral the clutter, but also they provide an intentional place to style and showcase your interests. We love how easily they style on the entryway table, living room coffee table, kitchen island, office desk, bedroom nightstand, closet shelf, and even the bathroom counter. Here are our most-loved tips for styling a tray.  
There are a variety of trays available. We love our elegant Maison Tray, the organic Teak Cutting Boards, and the Petite Marble Tray, but we will be focusing on our Sting Tray. Our Sting Tray comes in four colors: Slate, Haze, Blush, and Graphite, and two versatile sizes. We created the large to easily style onto spacious coffee tables, counters, and dressers while our medium size pairs well with ottomans, islands, and center hall tables.
Our first addition is something natural and organic, like a houseplant or a faux arrangement. This loosens up the lines and makes it so not everything is perfectly squared. It also lends visual height, providing a beautiful contrast to everything smaller and flatter. We love to add our marble Flora or Fauna Vases paired with seasonal Pink Cherry Blossoms or classic Magnolia Branches for that everlasting touch. We recommend styling the arrangement in the top corner.
Next, we always have a signature scent. Style our Crystal Candle Dish with your favorite candle to create a sensory experience. Our 36oz Makassar Candle pairs perfectly with the large dish, creating an elegant statement. For a smaller, chic look, the Round Clawfoot Dish holds smaller candles like our current favorite, the Alice Lane Home Candle. Make sure to face the candle label out so that when guests approach, it doesn't appear upside down. Style this pairing below or diagonal from the floral, leaving room for our next tip.
Finally, add things that interest you. Style your favorite coffee table books vertically and stacked. Ensure the spines complement each other, such as our Tom Ford 2.0 and Robert Stilin: Interiors. To hide remotes, cords, and electronics, we suggest a box like our Penny Dot, Burled Wood, or Studded Platinum. Finish the design with our Wooden Links draped across the books, the Oslo Dish full of candy, or a Crystal Orb for an added touch of sparkle.
Following these tips, styling a tray can be effortless and tasteful, creating everyday luxury. To watch Jess style a tray, check it out here. For more inspiration, browse our Lookbooks here. To get more tips and tricks, read here.