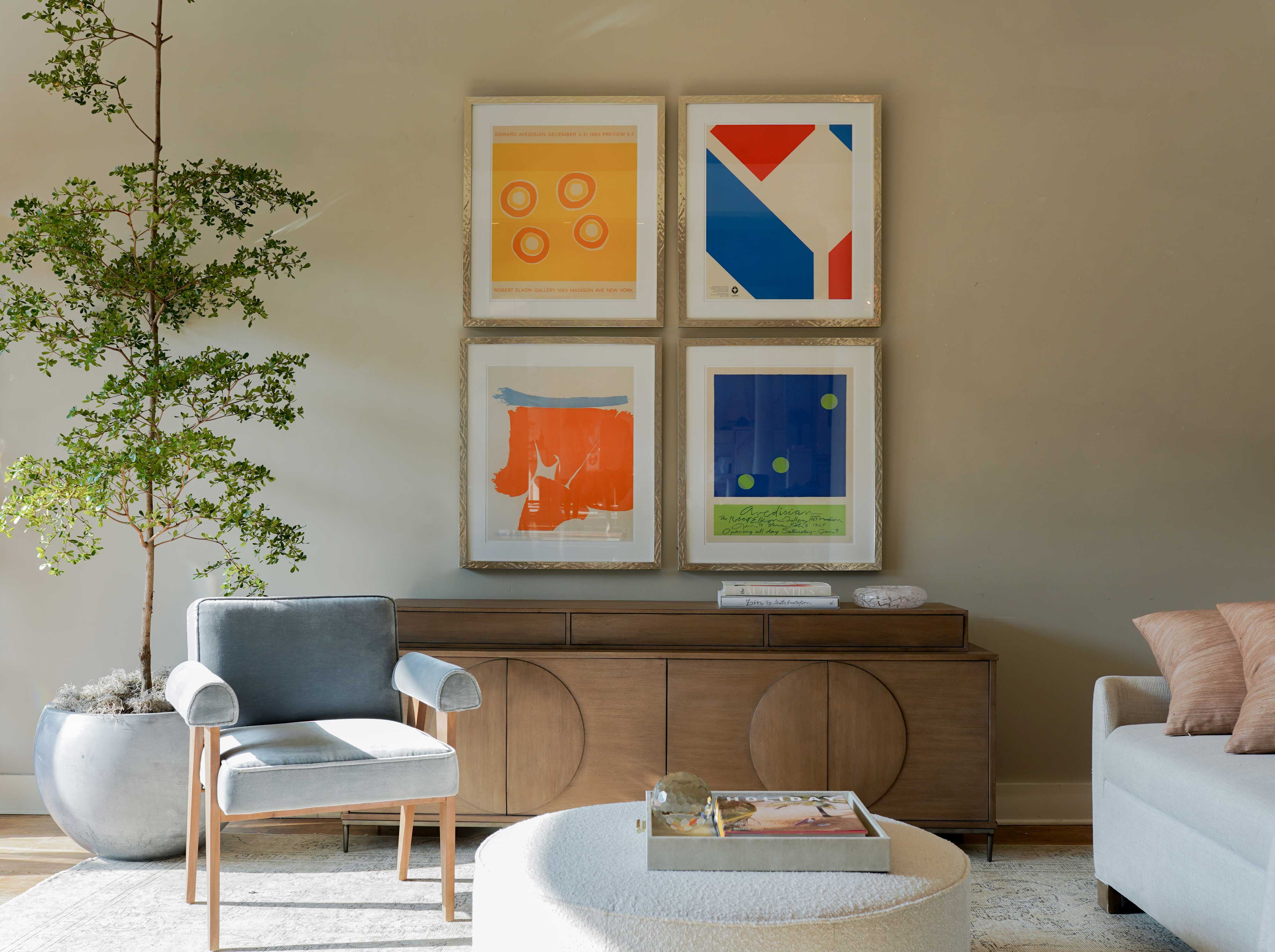 Console tables are a must-have. They easily utilize space for functional storage and decorative design. We love the variety of chests, consoles, and sideboards available to fit any style. With so many uses and ways to design, let's talk about a simple formula for styling any and all consoles.
First. Start with the actual console. There are so many beautiful kinds and designs. Decide what you are looking for, measure your space, and start the search. An Alice Lane favorite, we love the Henri Entertainment Console, with its large size and circular, sculptural accents. It is elegant and neutral, styling into a myriad of spaces. For a more minimal style, our York Console showcases a clean form with ample surface space and an airy design.
Second. Make a statement with a large artwork or mirror above the console. This provides height, creating balance and visual contrast with the chest or console. Some of our favorite pieces are Girl with the Pearl Earring, Capistrano Seaweed, or Euclid's Dream. For a mirror, our Oxford Mirror is a timeless classic with its thin frame and spacious, curved form. Or a more glamorous design, the Entwined Dolphin Mirror's stunning gold frame creates a textured, eye-catching look.
Third. Begin to layer with smaller art, florals, or lamps. It is easy to mix and match, styling pieces you love with functional additions. One of our favorite luxurious tricks is to layer artwork, our Lucite Art Stand is perfect for elevating a smaller artwork, creating importance but not overshadowing the larger piece behind. If extra light is needed, pick an accent lamp like the Winnie Crystal Lamp or the Blythe Lamp for added visual height. On the opposite side pair an organic touch, such as marble or florals. Our Marble Fauna Vase paired with seasonal Cherry Blossoms or Hydrangea Stems is a versatile, beautiful addition.
Fourth. The final touches are adding smaller accessories. Display your favorite design books, like Tom Ford or Architectural Digest, topped with small pieces for a grounding effect. Our Yin Yang Dishes are a beautiful addition, providing transparency and irregularity. We also suggest styling a tray, like our Maison Tray, to corral small pieces like the Marble Match Holder, Mosaic Bone Bowl, or Saffron Candle Holders.
Following this formula, it is simple to create a beautiful, lasting style for consoles, chests, and sideboards. For more styling tips, see our blog posts here. To watch Jess style a sideboard, check out the video here.