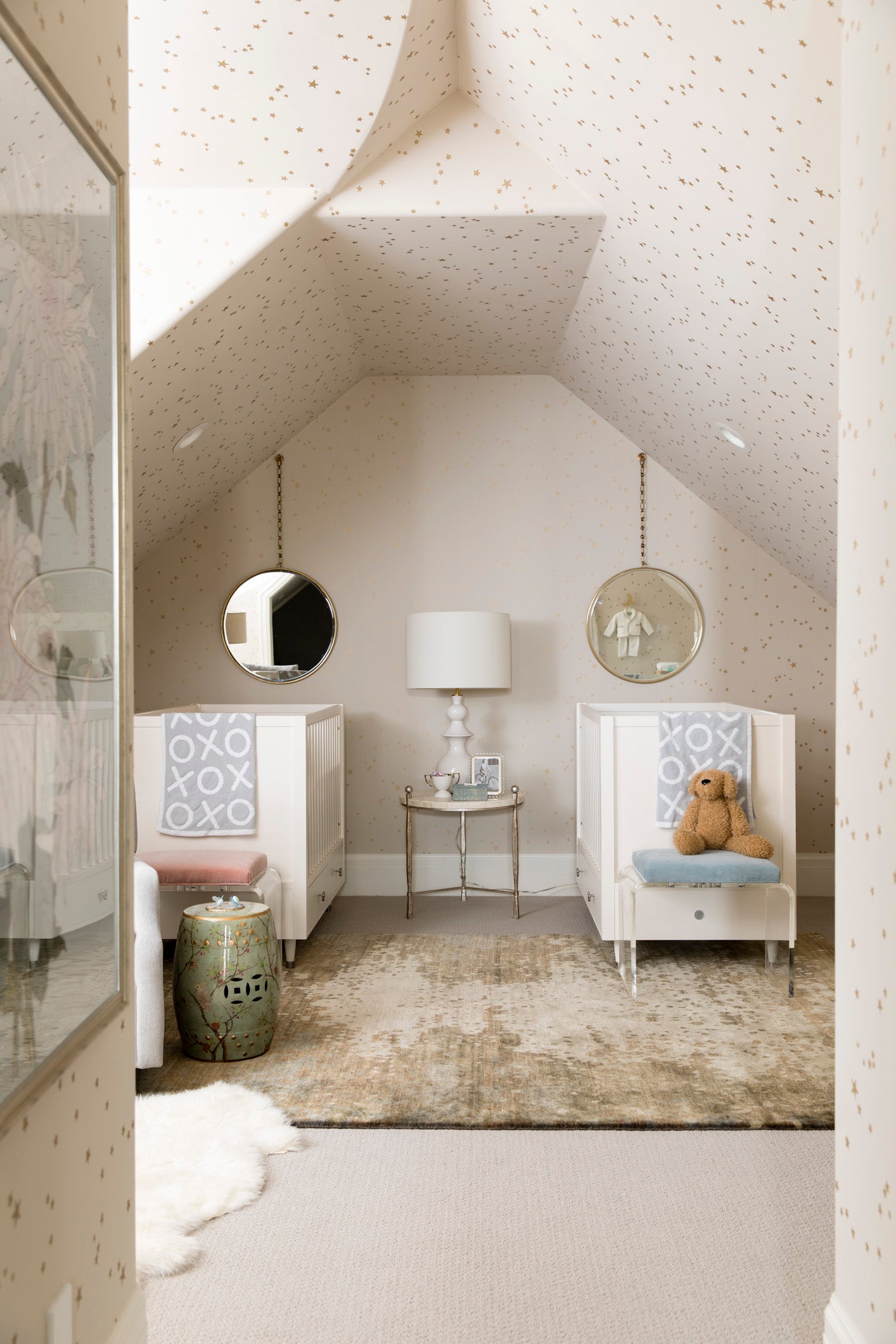 We were so happy when blogger Emily Jackson requested to work with us again - this time to design a nursery for her twins. We knew from the beginning that this would be a unique project, not only because we were designing a space for 
two
babies, but also because it needed to fit both a boy and a girl.
This meant keeping the overall vibe of the room neutral, yet sophisticated and lively. There is no overwhelm of pink or blue, just a perfect blend between soft and playful. Each baby has his and her designated spaces, accented by a sleek ottoman at the foot of each crib. Star-speckled wallpaper, which covers the room from its feet all the way up to its vaulted ceilings, adds a touch of heaven, while still giving the space an imaginative and whimsical touch. 
The window seat scene is cozy and inviting. Here, we incorporated delicate details of pink pom-poms on the roman shades, and soft fringe on the custom seat cushion. With an added collection of throw pillows, it's the perfect spot for reading or gazing out the window on a rainy day.
The dresser is accessorized with things both functional and beautiful. An accent lamp gives off the perfect amount of light for nighttime changes, and small canisters next to the changing station hold necessities like cotton swabs. The room's multiple accent tables are another form of beautiful function, dressed with bowls to contain small toys or pacifiers (which so often go missing!)

A set of mirrors above each crib reflects the natural daylight of the room, and at night, a large lantern pendant with multiple glass panes casts reflections on the walls that only add to the celestial glow.
CLICK HERE TO SHOP THE ENTIRE COLLECTION