Gather Together: How to Decorate a Dining Room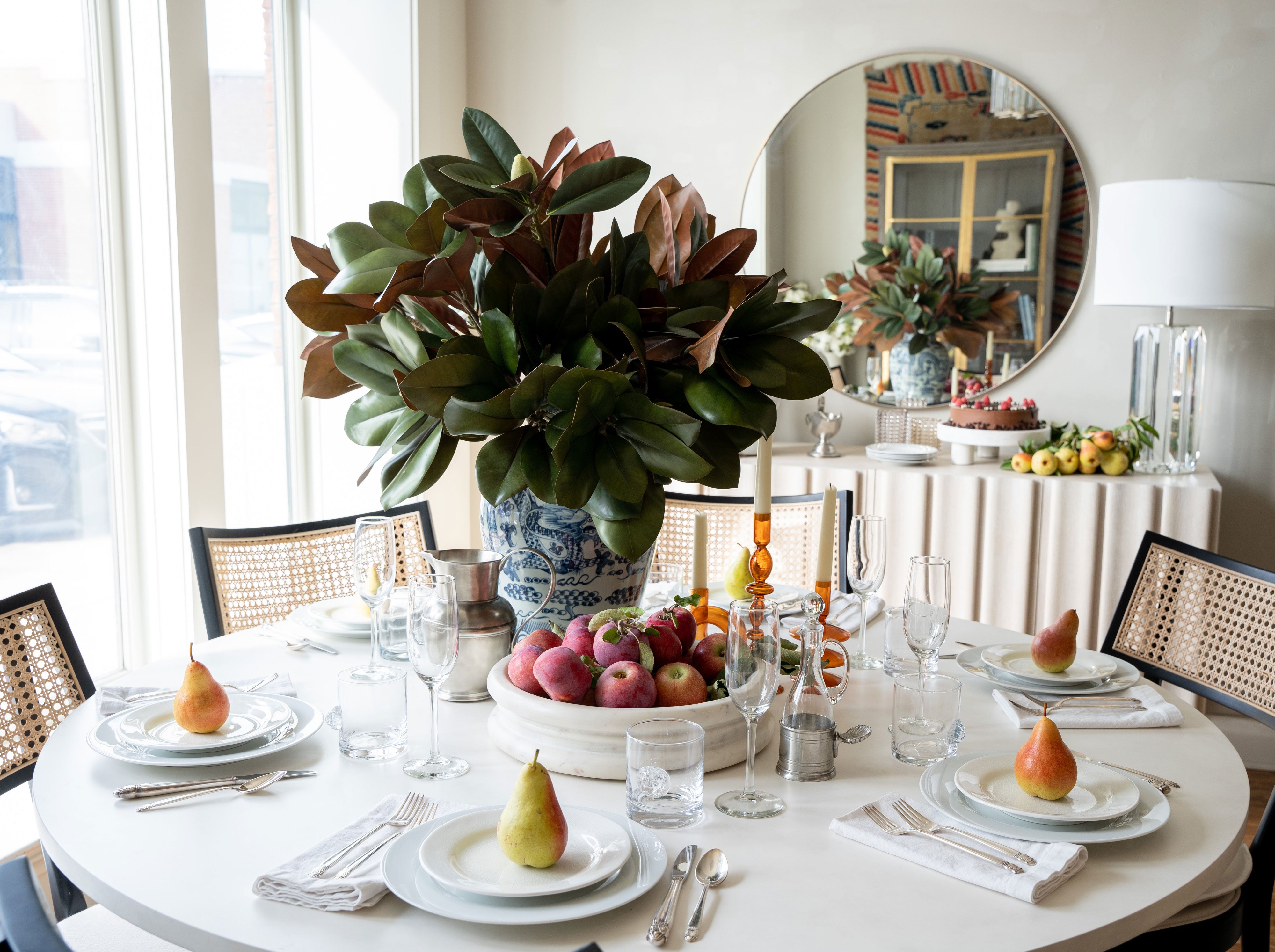 With the holiday season approaching, it is time to focus on the dining room. We spend a significant amount of time gathered around the dining table, so let's create a space that is functional and beautiful. 
The first step in creating a dream dining room is finding the perfect table. We love a round dining table with plenty of space for guests, food, and making memories. We can't get enough of our Lucca Dining Table. Its versatile and durable white finish lends a perfect base for pairing with statement chairs and decor. Newly available in two sizes, we wanted to create a table that could fit into any room, any size. Our Frida Dining Table is another favorite, it lends a more natural look with its spacious wood top.
After selecting the table, chairs are next on the list. We love the mixed materials design of the Milo. This black dining chair boasts a natural cane inlay, for added texture and visual dimension. For a modern dining chair, the Bobbie Chair features a shapely silhouette with brass-capped legs. Our Fletcher Chair is an effortless addition, easily pairing with any style of dining table.
Next is answering the question: How to decorate a dining table? We suggest incorporating objects of height, beauty, and functionality. Height can be achieved by pairing faux stems with a vase, such as our Flora or Fauna Marble Vase with Magnolia Stems or Hydrangea Stems. For beautiful objects, the Crystal Candlesticks lend a sophisticated touch. If more color and dimension are your style, our Saffron Candle Holders are a must-have. Adding our Venice Marble Bowls or pewter Gravy Boat are the final additions, creating that blend of elegance and functionality.
The final aspect is the presentation of the food. We love using marble, as it brings a living, timeless design. Our Cake Cloche beautifully displays baked goods, making a big impression. The Oslo Dish and Marble Cutting Board provide ample space to elegantly showcase treats and sandwiches. Along with the natural look of marble, wood also lends an organic touch. Our Wooden Serving Set paired with our Hand Carved Spoon Set creates a cohesive, intentional setting.
All these elements beautifully decorate a dining room, creating a space where everyone can gather, be together, and create memories. For more styling inspiration, check out our Instagram here. If you want help in selecting any of these aspects, our complimentary designers are available. You can contact them here.