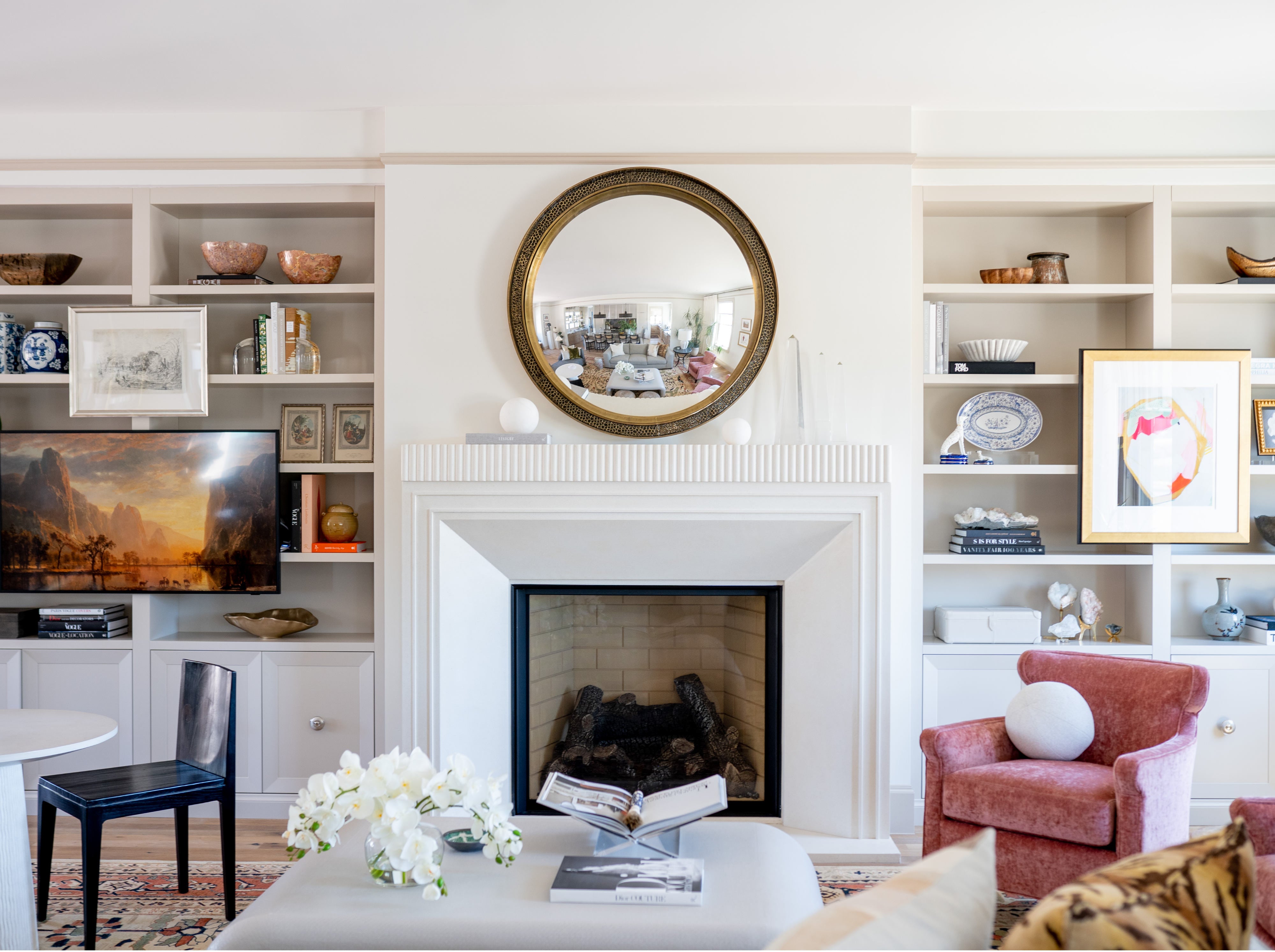 One of our most popular questions is how to style built-in shelves, bookshelves, and kitchen shelves. We love that an increasing number of homes are including open shelving because it offers a beautiful way to display collections, personal styles, and interesting objects. Having styled countless open shelving, here are our favorite four tips for creating an intentional, timeless design.
One: Graduating Height. We love to start with cultivating objects and books that graduate height. This can be up and down, small to large, or short to tall. Our Crystal Obelisks are perfect for this, available in five different sizes, mix and match together to create visual dimension. Another beautiful way to add height is with our Crystal Cubes. Use these to elevate smaller items like candles or vases. We also love to stack boxes on top of each other, our Burled Wood or Brass Loop Boxes are beautiful additions, stacking a smaller size on top of the larger.
Two: Layering. Our next tip is to start creating layers on your shelves. One of our favorite styling tricks is to save smaller artwork that won't make an impact on your wall and push it to the back of your shelf. Then, layer smaller objects and pieces in front. If you don't have a smaller artwork, books can be used as well. In a kitchen, layer your favorite cookbooks like Off the Menu, The Art of the Cheese Plate, and More with Less to create that same rich visual texture.
Third: Collections. Open shelving is a beautiful way to display collections. Style all your like books, and pair them with our stunning Crystal Bookends. They add a translucent quality, providing a beautiful contrast with the rich colors and designs on books. When selecting books, choose ones whose spines complement each other or match for an elevated look. One of our other favorite book tricks is to style it open on our Lucite Book Display or Wood Book Cradle. This gives the book an important moment, showcasing your interests. This is also useful for functional styling on kitchen shelves, to hold open recipes while cooking.
Fourth: Objects and Space. Our final trick is to add interesting objects and leave space for collections to grow. Our favorite objects for shelf styling are our Wooden Sculptures, Gold Eros Sculpture, Domino Bone Box, Italian Blown Glass Dish, and Wooden Links. Each of these pieces adds a rich texture, cultivated look, and interesting patterns and shapes. We also love to add our Crystal Edge Frames to display prized family memories and pictures. Make sure to leave empty space, providing room to add more to your collections and help the shelves not look overstyled.
These four tips are perfect for shelf styling, whether you are styling built-ins, bookshelves, or kitchen shelves. To watch Jess style shelves, view her video here. For more shelf styling tips, read this blog here.